On the 3rd of January this year, only two days of one of our most remarkable vacations in Northern California ever were left. We stayed for three weeks in the valleys over Christmas and New Year's Eve. All the time the sun was shining and it was too warm for the season. Some friends told us that 2013 was the driest year in Marin County for more than 100 years. Incredible.
However we used the strange weather situation and visited some nice places in the area, including - of course - a lot of wineries. On this day we decided to check out some wineries in Sonoma County for the last time during this trip. We selected the Benziger Family Winery as a starting point because we heard this should be a lovely place. From there we planned simply to follow the road and stop wherever we thought it could be worth to.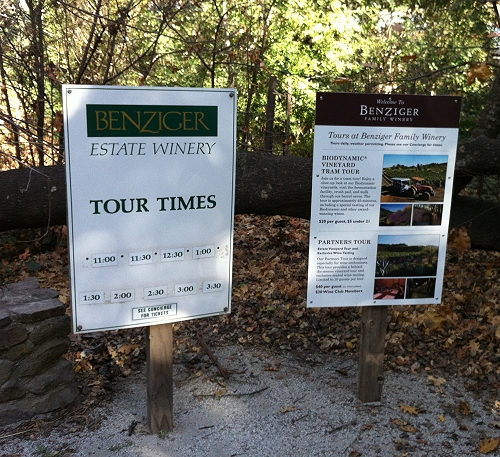 Benziger Family Winery - You are welcome all the time
When we arrived at the winery we were totally impressed by the surroundings. Also it was very quiet this morning. Not usual for Benziger because the winery is quite rightly very popular for both target groups - tourists and wine lovers. We did the "Estate, Biodynamic & Single Vineyard Tasting Menu" and this was a good choice. Nearly all wines have a very good quality and it was difficult to decide which of these amazing bottles I should take with me home to Germany. At the end I bought a bottle of the 2010 Signaterra Sunny Slope Vineyard Cabernet Sauvignon and very pleased we left the winery to continue our trip.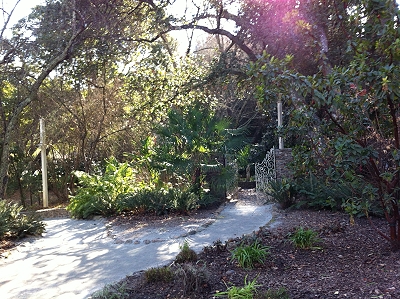 At Benziger everything is cozy
Next stop was at Kenwood Vineyards. We were there only for a short visit. Not because of the people or the location, but we were hungry and so we wanted to have a small lunch break at Cafe Citti - one of our favorite places in this area. At Kenwood I hoped to taste one of the famous Cabs from the "Artist Series" - and I was not disappointed. Two of them could be tasted this day - unfortunately I forgot the vintages - and indeed these wines had a very good quality, but also elevated prices. So I didn't take a bottle with me.
After our lunch break at Cafe Citti we continued freshly prepared our trip and stopped next at the Deerfield Ranch Winery. I didn't know this winery so far and we planned only a short stop. We were totally wrong.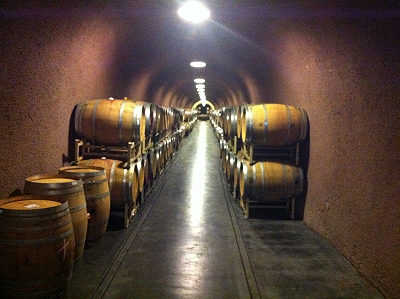 A great place: The caves of the Deerfield Ranch Winery
We stayed for more than two hours in the caves of the winery and tasted around ten different wines. All of them were at least good or even better. Some outstanding. Part of the DRW philosophy is the following: "The wines are clean, have very low histamine and sulfite levels so that they produce no headaches or allergic reactions." This is totally true and shows that also with this style very good, long-living wines can be produced. Perfect example: The 2002 DRX. Still young paired with wonderful ripe fruit aromas. By the way: The current release of the DRX is the 2005(!). However we took with us the 2007 Cabernet Sauvignon. Why? Please see below.
So with this tasting our wonderful trip to Sonoma County was finished and we drove back to Marin County. And more or less this was also the end of our vacation.
Exactly nine months later we decided to taste the two bottles from Benziger and Deerfield with some very good friends. We organised a Raclette event and my wife prepared for dessert a wonderful Panna Cotta with raspberry sauce and a purée of different fruits. We enriched the tasting by three other bottles from Benziger which we could get from a German trader and a bottle 1995 Kenwood Cab from the "Artist Series" I bought on an auction. These six wines were framed by a bottle Viognier from Cline Cellars as starter and a dessert wine from Ferrari-Carano for the Panna Cotta. So again "A Trip to Sonoma County". Even if we were all still in Germany.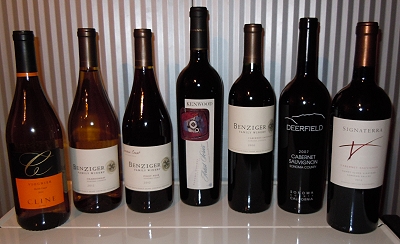 A Trip To Sonoma County - the wines
2012 Cline Cellars Viognier North Coast (91/100)
Sonoma, California
14.0 % Alcohol
Light golden yellow, a little bit sparkling. Very fruity aromas of peaches and apricots. Incredibly young, but already telling you: "Drink me. I'm the best." I love this dunking into a basket of citrus fruits. Nearly no wine can provide this feeling like the young Viogniers of Cline. Absolutely stunning. On the palate extremely harmonic. The citrus fruit tones are still dominating but without any bitterness. Neverending finish. This Viognier is a masterpiece. Far, far away from the fat ones you very often get in California. Kudos to the team of Cline Cellars.
This outstanding Viognier is already perfect to drink. But I know the qualities of the Cline Viogniers: You can also drink this wine in five or six years. Then it will still be very good, but taste totally different. For the moment a fantastic partner for a vegetarian Asian dish.
2012 Benziger Family Winery Chardonnay Sonoma County (89/100)
Glen Ellen, California
14.0 % Alcohol
Golden yellow with some green reflexes. Aromas of pineapple, pineapple and pineapple. In this extreme form I never smelled this fruit in a Chardonnay. But to state clear: It is not intrusive, in contradiction very pleasant. On the palate other fruits suddenly come to your mind. Bananas, some apples and again - of course - pineapples. A little bit like walking through a fruit garden. Very long finish. An amazing quality for this bargain Chardonnay.
Still young. Will be on the peak in two years and will hold this quality for another two or three years. I ate once a nice dish called "Chicken and Broccoli Stir-fry". You can find the recipe on Food Network. This Chardonnay would be a great partner.
2012 Benziger Family Winery Pinot Noir Sonoma Coast (90/100)
Glen Ellen, California
14.5 % Alcohol
Light and clear ruby red. Typical Pinot nose: Strawberry, raspberry and at the end a little bit crème de cassis. Very fruity paired with herbs. Medium bodied but extra-long finish. Far at the end velvety and spicy. Very, very good.
Already drinkable but you can wait one or two years more. Then the wine will keep the quality for another two years. The pairing? Peking Duck. Definitely!
1995 Kenwood Vineyards Cabernet Sauvignon Sonoma County "Artist Series" (89/100)
Kenwood, California
13.6 % Alcohol
Deep, dark cherry red. Aromas of ripe, dark berries and cowberries. A little bit wet leaves. On the palate smooth, but strong. Again a lot of ripe berries. Very pleasant and not astringent. Surprisingly fresh for the age of the wine. Another good example of the aging quality of the "Artist Series". Medium-long finish. This classical Cab was perfect for the Raclette. And indeed I would pair it with a nice selection of cheese. By the way: The artist for the´95 label was Karl Albert Kasten (March 5, 1916 – May 3, 2010); a painter-printmaker-educator in the San Francisco Bay Area.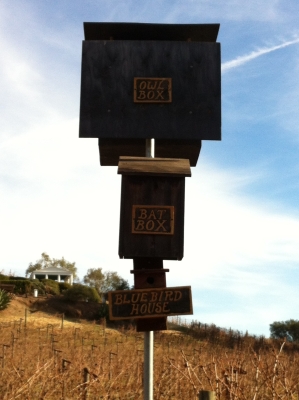 Roomers at Benziger Family Winery
2010 Benziger Family Winery Cabernet Sauvignon Sonoma County (89+/100)
Glen Ellen, California
14.0 % Alcohol
Deep cherry red. Nice bouquet of cherries, blackberries and tobacco. Very fruity with a little bit alcohol in the background. Of course too young, but the potential is visible. Nice.
Wait another two years minimum. Starting from there the wine will hold its quality around five years longer. If you drink the wine now I could bet that a pairing with blue-cheese dishes would be spectacular. Later on grilled lamb chops.
2007 Deerfield Ranch Winery Cabernet Sauvignon Sonoma County (94/100)
Kenwood, California
75% Cabernet Sauvignon, 10% Merlot, 6% Malbec, 5% Cabernet Franc, 4% Petit Verdot
13.4 % Alcohol
Cherry red with some light rims. Intensive aromas of black fruit, licorice, tobacco and dark chocolate. Liquory. On the palate extremely fruity and creamy with a very long and pleasant finish. Terrific! This Cab made as a classical "Bordeaux-style" blend is a wonderful example of the California opportunities to prepare such wines without copying the "old world". Neither the "full-bodied" Ramey style on one side nor the existentialist Dunn one on the other. Somewhere in the middle. Please don't misunderstand me: I like them both pretty much, but this Deerfield Cab touched me. And it seems my friends, too. The bottle was emptied very, very quickly.
The wine is already on the top and it is difficult to say how long it will hold this quality. 2, 5 or 10 years? I really don't know. The DRX shows the aging quality of the Deerfield wines. But to be honest: At the moment this wine is absolutely outstanding. Why wait? Concerning food pairing you can combine this Cab with the typical dishes. But I would prefer to enjoy this one without anything else. Indeed we drunk most of it after finishing the Raclette.
2010 Signaterra Cabernet Sauvignon "Sunny Slope Vineyard" (92/100)
Benziger Family Winery, Glen Ellen, California
14.0 % Alcohol
Deep cherry red; nearly black. Aromas of tobacco and dark chocolate are paired with black cherries. A lot of tannins still present. Definitely too young for the moment. After four hours smoother, more elegant. Now the tannins are better integrated. Wait for another two years. Then the wine will be perfectly to drink and will hold this quality for another five years. Due to some sweetness the wine provides I would recommend to pair it with a nice venison dish prepared with a berry sauce.

Supports the dessert: The Ferrari-Carano Eldorado Gold
2007 Ferrari-Carano "Eldorado Gold" (89/100)
Sonoma County, California
91 % Semillon, 9 % Sauvignon Blanc
13.8 % Alcohol
Very deep golden yellow. Typical aromas for a wine made from botrytis-affected grapes with high Semillon part: Honey, ripe apricots and peaches. In the mouth the sweetness is not excessive. Long finish.
The wine works absolutely fine with the Panna Cotta. My wife didn't prepare it too sweet (with some buttermilk) and so the cream and the wine started a nice dialogue together. A wonderful finish of this trip to Sonoma County - like the tasting tour for our vacation nine months ago.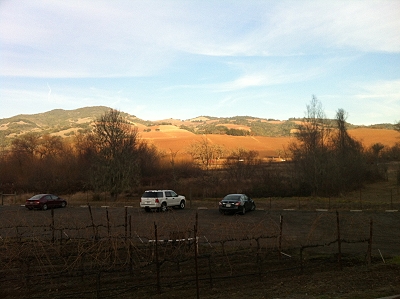 The day in Sonoma County ends - View from Deerfield Ranch Winery