Visiting Sonoma County means for me all the time that I also have to visit a very special place – Cornerstone Gardens.
According to the website "Cornerstone Gardens is an ever-changing series of walk-through gardens, showcasing new and innovative designs from the world's finest landscape architects and designers."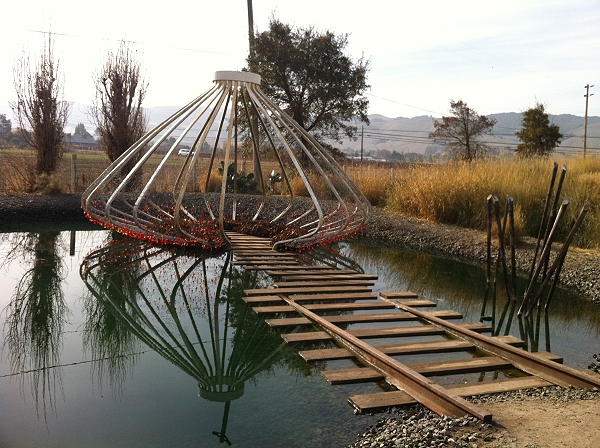 This is totally true, but indeed Cornerstone Gardens provides more. For the full range of amenities please check the website http://www.cornerstonesonoma.com/. I want to concentrate on the three tasting rooms currently located at Cornerstone Gardens:
- Keating Wines
- Poseidon Vineyard & Obsidian Ridge Winery
- Meadowcroft Wines
During our last trip we spent in all three tasting rooms a lot of time and we had the opportunity to taste the full range of the fantastic wines produced by these wineries. Some bottles I took with me back to Germany and together with some friends we celebrated a reminiscence to these three tasting rooms and their wines. A really nice experience.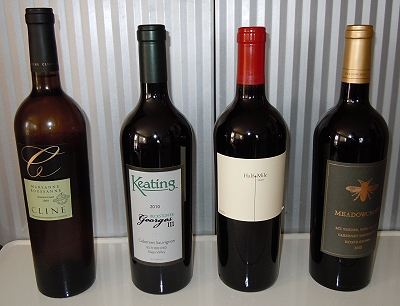 The Reminiscence
One thing is clear: Visiting Cornerstone Gardens means also that you have also to stop at Cline Cellars. So we all thought that perhaps we should start with a nice white wine from this wonderful family-owned vineyard.
2009 Cline Cellars Marsanne Roussanne Sonoma Coast (88/100)
Sonoma Coast, California
14.0 % Alcohol
Strong golden yellow, clear and bright. Aromas of buttered popcorn, butterscotch and ripe exotic fruits, mainly pineapple. Fat, heavy and absolutely full-bodied. On the palate the pineapple aromas are confirmed. Medium-long finish. A BBQ wine at its best. Absolutely on top. Don't wait any longer.
Cline Cellars is definitely the winery I visited most often in the last eight years. Also I met Fred Cline once during a presentation of his wines during the Rheingau Gourmet Festival in Germany. An extraordinary person and an extraordinary winery. When Robert Parker publishes his list of top US values usually Cline Cellars is represented with 10 % or more of all listed wines! I will visit Cline Cellars later the year again. And then I will provide a more detailed report.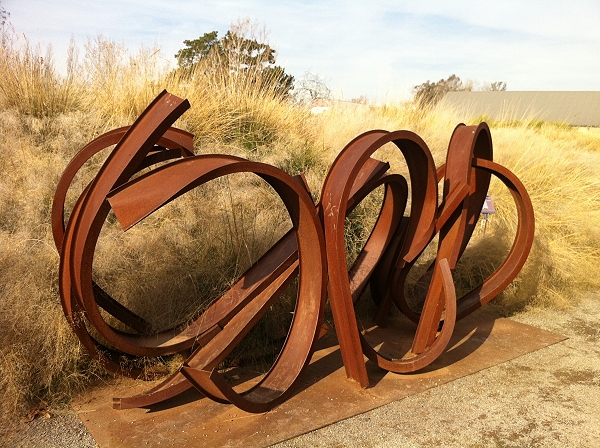 But now we enter the three tasting rooms at Cornerstone Gardens. Or better I did this in my mind. Indeed it was Tuesday, the 17th of December 2013 when I visited all three tasting rooms last. I still know this because shortly before this latest trip to California I drunk the remarkable 2011 Dry Creek "Buchignani" Zinfandel from Keating. This wine was so good that I immediately wrote an email to Eric Keating to reserve another six bottles. And on the 17th we arranged the pick-up. Again it was a fascinating tasting. I am all the time surprised about the continuous quality of all Keating wines. This day my favorite was the 2010 Cabernet Sauvignon Beckstoffer Georges III. Also this wine we tasted during this reminiscence.
2010 Keating Cabernet Sauvignon Rutherford Beckstoffer Georges III (91/100)
Rutherford, Napa Valley, California
14.7 % Alcohol
Dark cherry red, nearly impervious. A full basket of dark fruits: blackberries, blueberries, paired with sauce of dark chocolate. On the palate very strong and rustic. Full-bodied. The presence of the alcohol is noticeable but not in a bad way. Decanting. After two hours smoother, more charming. Very, very good. Also a BBQ wine. Or even better a nice duck dish with a cherry gravy!
The originally plan for the 17th was to pick-up the wine at Keating and then to leave Cornerstone Gardens to visit some other places. Then we saw the tasting room of the Tricycle Wine Partners with the wineries Poseidon Vineyard and Obsidian Ridge. The tasting room was at this time not so long established, but it looked cosy and Henri - the dog we took care of - needed a break.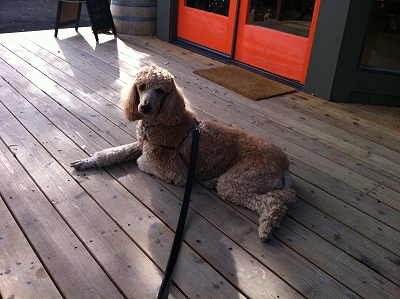 Henri needs a break at Tricycle Wine Partners
So we walked in - and left nearly two hours later. All tasted wines were at least very good. Some of them outstanding. Even the "everyday wines" like the Poseidon's Chardonnay and Pinot or the Obsidians Cab had a high quality. But my absolute favorite was the 2010 Half Mile - a blend of Cabernet Sauvignon and Petit Verdot. And yet a half year later and thousands of miles from home the wine was even better.
2010 Obsidian Ridge Half Mile Proprietary Red (92/100)
Red Hills Lake County, California
14.2 % Alcohol
Dark cherry red with some purple tones. Blackberries, chocolate and some earthy notes. On the palate fruity and wonderfully smooth. A charming guy. Absolutely on the top but it will hold this quality for another three years minimum. A partner for roast chicken!
I have to mention that we visited some days later the tasting room again with some very good friends for another tasting. See also one of my first entries. We wanted to stay for approx. 90 min and to have some other tastings the day. We left after two and half hours. Nothing more to say.
However after this first tasting at the 17th we really wanted to go. But Carole - the very charming lady from Tricycle Wine Partners - strictly recommended us to stop shortly directly next-door at Meadowcroft. We followed. A good decision. Also here the quality of nearly all wines is very, very good. My favourite: The estate Cab.
2010 Meadowcroft Cabernet Sauvignon Estate Grown (90/100)
Mount Veeder, Napa Valley California
14.5 % Alcohol
Medium-dark cherry red. Cherry aromas paired with blackcurrant. Very fruity. On the palate fruits again; some spices. Tannins still present. Decanting. If you want to pair a Cab with seafood (e.g., tuna) this could be a partner. After one hour still fruity but smoother. Still very young.
Of course all the three Cabs are too young to drink them now. But with two hours decanting all of them offer maximum pleasure. And for me a wonderful reminiscence to a remarkable place in Northern California. I will come back again. Definitely.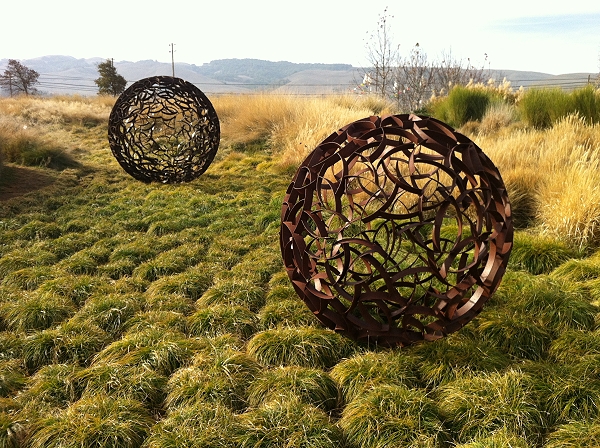 PS: The day we tasted the wines is already some days ago. It took some time to finalise the entry for several reasons. However I added the last things last Sunday - just when the earthquake took place in Napa. In the meantime I received the information from Keating Wines and Tricycle Wine Partners that nobody was hurt and the damages are manageable. Thank God they were more lucky than other wineries near the epicenter of the quake. I hope that all wineries in the area can manage the impacts of this disease. But I trust in the spirit of the people in the region as mentioned in an email I received from Truchard Vineyards: "Napa is a strong, vibrant, and supportive community, and we are proud to call it home."