Last week we had to go to England for a business trip. Luckywise the meetings were Thursday and Friday. So it was possible for my wife and me to stay over the weekend in London. And of course we planned to visit Hedonism - the amazing wine shop in Mayfair. I checked the website of the shop and detected that exactly this Friday Robert Parker would present his new lifestyle journal "100 Points by Robert Parker'" combined with a tasting of 100 PP wines. We bought two non-VIP tickets which means we could taste four of the wines when we would share the glass.
Before I start the event report a word about Hedonism and their team. The environment is outstanding, the team very friendly, courteous and absolutely competent. Indeed the best wine shop I visited so far.
We were welcomed with a glass 2004 Dom Pérignon (95 PP). Wonderful aromas of peaches, apricots and some indefinable nuts in the background. Fresh and elegant on the palate supported by the smooth and fine perlage. Life is good. To be honest I am not a Champagne expert. After that glass I plan to change this

.
Next of course the autograph section. Robert Parker is a very friendly man. He took his time for any visitor, which drove the Hedonism team nearly into panic due to time constraints.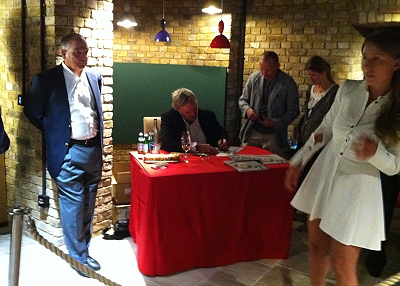 Lot of work for Robert Parker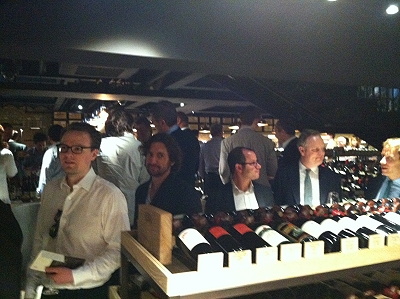 The queue
Directly besides the table for the autograph section the 2008 Grange by Penfolds was presented for tasting. So we decided to spend our first voucher. The wine was amazing. Very intensive and complex fruit aromas. Still very, very young, but already ready to drink. On the palate baskets of fruits and a lot of spices. Full bodied and perfect. Perfect? Yes, but... My wife and I had both the feeling that this wine was a little bit "too perfect". Sometimes even the most perfect wine needs some edges. The 2008 Grange offered none. No idea how to pair this wine with some food. Best to drink it without any food in a very peaceful moment of life.
However the presentation of the Grange was amazing. All necessary information were presented in a very charming way by a friendly man. He seemed to know everything about the wine. Not surprising: The presenter was Peter Gago - the winemaker of Grange.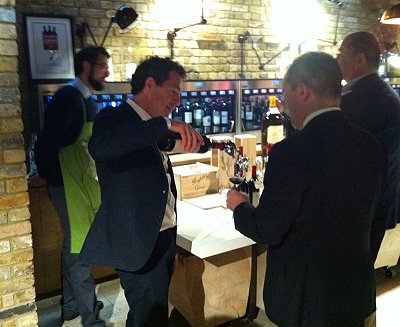 Peter Gago pours the 2008 Penfolds Grange
After this very inspiring tasting we went to a table where two wines were presented together - the 2007 Vérité La Joie and the 2002 Lokoya Cabernet Sauvignon Mount Veeder. We started with the La Joie. Tasting this wine was a must. Some years ago we visited Vérité for a tasting and were allowed to taste the 2007 Le Désir. A truly outstanding experience. The La Joie is more complex than the Le Désir. Besides the dark fruits some tobacco and impressions from a dark and wet forest. Here we could find the edges we missed when we drunk the Grange. But: Definitely too young. If you want to drink the wine now a decanting time of minimum three hours would be necessary. A wine for the festive dinner. Wonderful with venison.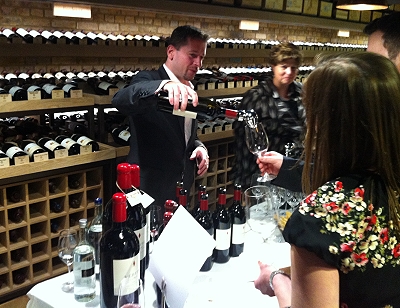 Constantly occupied: The Vérité and Lokoya booth
Totally different the 2002 Lokoya Cab. Still very young, but it seems to be in a difficult phase. At this evening the wine was extremely closed; the fruit aromas were far away in the background and it felt a little bit hard. It would be interesting to see how it will evolve in the next two or three years. At the moment: Back in the cellar. Or decant it for four hours and pray. If it opens again then you should pair it with a Wagyu steak during your next first class dinner. Perhaps with a nice mushroom ragout?
Before I will come to my last wine I tasted during this unforgettable evening I want to list all 100 PP wines which could be tasted by the audience:
- 2010 Chapoutier Ermitage Cuvée de l'Orée
- 2010 Dominus
- 2004 Bodegas Fernando Remirez de Ganuza Gran Reserva
- 2010 Château Pontet Canet
- 2008 Penfolds Grange
- 2010 Peter Michael Winery Pinot Noir Ma Danseuse
- 2007 Vérité La Joie
- 2002 Lokoya Cabernet Sauvignon Mount Veeder
- 2011 Alvear Pedro Ximenez de Anada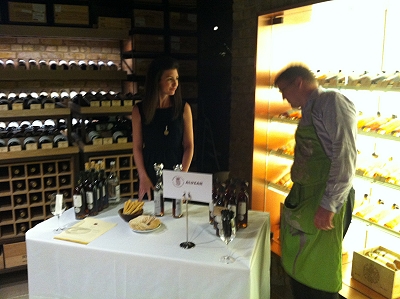 The Dessert Wine booth was at the beginning not too crowded
Also some more champagnes could be tasted besides the '04 Dom Pérignon: The 1990 Dom Pérignon and the 1998 Dom Pérignon Oenothèque!
But now let's come to the wine we spent our last voucher on - the 2010 Chapoutier Ermitage Cuvée de l'Orée. Yeah, I know. How can you drink the white wine after these outstanding reds, ... For me it was clear from the beginning that this would be the last wine I would taste this evening. I expected something spectacular - and this was the case. The 100 % Marsanne was presented from a magnum and offered an explosion of fruits like peaches, apricots and peruvian ground cherries. Full-bodied and with a never-ending finish. Even the next day I had the taste in my mind. The best white wine I drunk in my life (so far).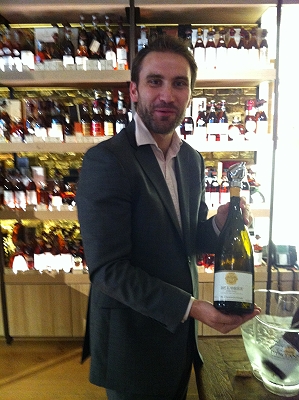 My favourite: the 2010 Chapoutier Ermitage Cuvée de l'Orée very charmingly presented
So my summary: An extrordinary event with friendly people and fantastic wines. I would do it definitely again. But you can also simply visit Hedonism even if no event takes place. The location and the team are amazing. My wife and I came back already the next day

. We wanted to test the six Enomatic sampling machines which allow to taste nearly fifty different wines at any one time! We tasted nine...
1. 2006 Cuvée Paul François Cotat Sancerre Vigneron à Chavignol (88/100)
Surprisingly light golden yellow, totally clear. Honey melon and peruvian ground cherry. Creamy, a little bit like ripe banana. Very smooth with a long finish. Pairing: Pasta with seafood and creamy wine gravy.
2. 2011 Kistler Chardonnay McCrea Vineyard (89/100)
Wonderful strong golden yellow. Typical vanilla, banana and pineapple aromas. On the palate pure Chardonnay. Alcohol not too strong, some herbal notes at the end. Pairing: Asian food.
3. 2012 Araujo Estate Sauvignon Blanc Eisele Vineyard (90/100)
Light green yellow. Gooseberries, green kiwis, extremely intensive. On the palate surprisingly mild; perfectly integrated acidity. Sauvignon Blanc at its best. Due to its structure an alternative for non-red drinkers when you present venison. Otherwise: All variants of classical seafood.
4. 2010 Chave Hermitage Blanc (93/100)
Strong golden yellow. Butterscotch, toffee, bananas and ripe pineapple. Wonderful smoothness. Perfectly integrated alcohol. Nearly endless. Creamy, powerful, perfect. Pair it with lobster - pure decadence.
5. 2011 Carmel Yatir Viognier (Kosher) (90/100)
Golden yellow. Ripe fruits: Pineapple, banana; thick and fat. Long finish. Also a good partner for lobster.
6. 2008 Sine Qua Non Kolibri Proprietary White (92/100)
Nice golden yellow. Intensive aromas of pineapples and peaches. Creamy and full-bodied. A perfect partner for high-class seafood.
7. 2007 Schubert Syrah (90/100)
Ruby red with some light rims. Ripe forest fruits paired with black tea and tobacco. Also on the palate. A little bit too much alcohol. Nevertheless harmonic. Pair it with venison.
8. 2008 Sine Qua Non B 20 Syrah (92/100)
Dark cherry red. Wild mixture of dark fruits, herbs and dark chocolate. To be continued on the palate. Very velvety and still young. Long, long finish and extremely good. Again venison.
9. 1997 Henschke Hill of Grace (91/100)
Garnet red. Aromas of black tea, dried berries and earthy spices. On the palate again tea and ripe red fruits. Smooth tannins and well-integrated alcohol. Pair it with not too spicy lamb dish.
After that we stopped the tasting. If you get a chance to taste a Hill of Grace you should not continue

. So I went to my favourite Hedonism team member Clayton and bought two bottles for the way back to Germany following his recommendations - a 2010 Aubert Chardonnay and a 2005 Two Hands Shiraz Ares. Clayton: Many thanks for an outstanding experience. By the way: If you need the perfect wine gift - you may order directly on the website. Shipping costs to Europe are reasonable. I will go back to Hedonism and I will report.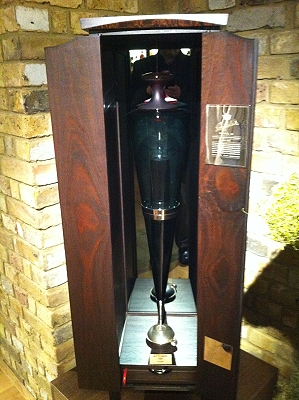 2004 Penfolds Kalimna Block 42 Ampoule