2019 Barnett Vineyards Cabernet Sauvignon
(92+/100)
Spring Mountain District, California, USA
14.9 % Alcohol
2021 Barnett Vineyards Chardonnay "Sangiacomo Vineyard"
(93/100)
Carneros, California, USA
14.5 % Alcohol
Tasted 2022-12-24 to 2022-12-26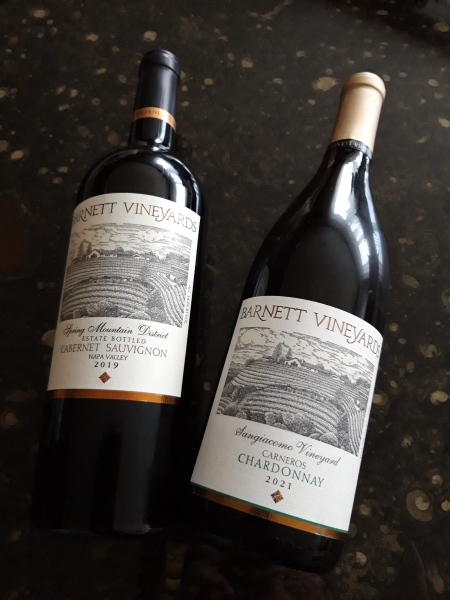 The Cabernet
Deep dark cherry red
Classic aromas of black cherry and blackberry. Plus some tobacco, black tea and wonderful distinctive licorice.
Pure black fruit on the palate coupled with a cool freshness. Discreet acidity. A bit closed at the moment due to its youth. Great potential.
In any case in its current stage, decant for at least three hours. Then perhaps serve with Roasted Duck Breast and Pecan Purée. Christmas feelings guaranteed.
Maturity: 2025 - 2040
The Chardonnay
Clear golden yellow
Melon and peaches initially dominate the aroma spectrum. In addition, light floral notes paired with some cape gooseberry. Rather Burgundian.
Fresh on the palate with slightly exotic attitudes. Very subtle acidity that gives the wine a nice freshness. After a short while the acidity turns into an animating creaminess that lingers almost endlessly on the palate.
I don't know why, but tasting the wine I immediately got the urge to enjoy it with a Creole dish. Crawfish étouffée, perhaps?
Maturity: Until 2031