Lodi, California, USA
29 % Cabernet Sauvignon – 27 % Malbec – 23 % Merlot – 21 % Petit Verdot
15.2 % Alcohol
Tasted 2022-07-16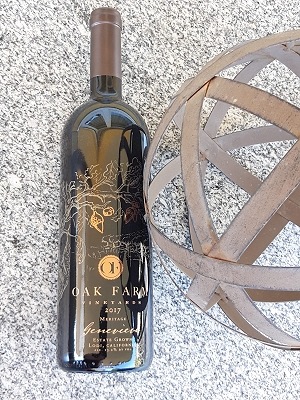 2017 Oak Farm Vineyards Estate Geneviève
In June, the second edition of the California Wine Weeks took place. Over 200 restaurants in 10 European countries presented wines from the Golden State on their wine lists. A really great idea!
The Wine Weeks are already over, but I thought to myself, even after that, you can still appreciate this initiative a little. Today with the fantastic winery Oak Farm Vineyards from Lodi. For a wonderful dinner, we opened a bottle of 2017 Geneviève – the winery's Bordeaux-style blend. This wine was named "Geneviève" in honor of Co-Owner Dorothy Panella's French mother, her name was Geneviève.
Almost opaque black cherry. Pure bacon on the nose paired with blackberry compote, black cherry and cold black tea. Promising. Firmly gripping on the palate with a tight tannin structure. The fruit notes slowly become clearer. In addition, a delicate, light acidity. The long finish is spectacular as the wine becomes progressively softer without losing acidity. Great job Dan.
The wine is just at the beginning and will easily remain on this level for another six years. We enjoyed it with Iberico Porc steaks. Wonderful pairing. The only downside: This wonderful blend is one of the few Oak Farm wines that I didn't import. Shame on you, Peter.