Oakville, Napa Valley, California, USA
91 % Cabernet Sauvignon – 9 % Merlot
14.9 % Alcohol
Tasted 2022-07-03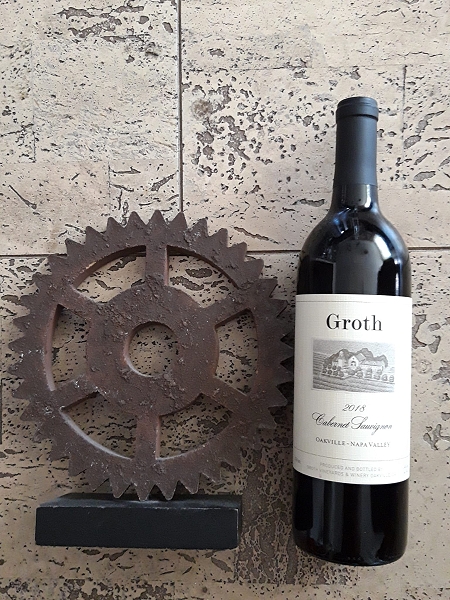 Groth Vineyards and Winery asked via Instagram how everyone is going to "wine down" the holiday weekend of Independence Day.
And of course we are doing that with a glass of Groth wine as wished by the wonderful guys from the winery.
It is really a coincidence that the ship, transporting among others the Groth wines I ordered January this year for my wine business, is scheduled to reach Rotterdam Monday July 4th. I take this as a good sign.
So we decided to open for our Sunday BBQ the 2018 Oakville Cabernet Sauvignon.
Medium black cherry. Extreme aromas of black fruit. Blackberry, cassis, some black cherry. In addition a touch of wet leather. Even from the distance of half a meter, all nuances are clearly perceptible.
On the palate, the black cherry initially dominates, paired with a fresh acidic note. Then slowly, very slowly, the wine becomes softer and more velvety. One has the impression that the wine hovers in the middle of the palate. The finish is ultra long and becomes slightly earthy towards the end. Terrific.
We visited Groth end of March. It was an outstanding visit. Thanks, Sue! Already on this day we tasted this beauty and the wine was awesome. Since then it improved slightly, but of course you should be patient. Perhaps for another two years or so. From then 10+ more years.
And again I recommend to pair a Cab with Tournedos Rossini. Do it. You will love it.