Napa Valley, California, USA
100 % Cabernet Sauvignon
14.4 % Alcohol
Tasted 2021-03-25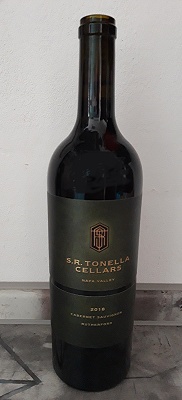 2018 S.R. Tonella Cellars Cabernet Sauvignon
Medium, dark cherry red.
Aromas of black fruits dominated by black cherries paired with a remarkable touch of licorice. In the background a hint of leather as well as freshly fried bacon. Nice, really nice.
On the palate the fruitiness accompanied by a fresh acidity is dominating in the beginning. After a while the acidity evaporates and makes room for a surprising velvetiness accentuated by a very animating spiciness. And this velvetiness remains nearly endless. Outstanding.
Pair this masterpiece of a modern Napa Cab with a Umami Mushroom Beef Burger. Of course with bacon. And for our vegan friends: Spicy mushroom risotto. Delicious.
Just at the beginning – even if already wonderfully drinkable. Wait for another three to five years. From this point 10 to 15 years.