Central Coast, California, USA
14.8 % Alcohol
Tasted 2020-04-12
Due to the current corona crisis, my wife and I spend a lot more time at home than usual. This means in particular that we also cook a lot more than in "normal" times. To my delight, Teresa decided today to prepare her sensational chilli again after a long time. You have to say that this variant is much closer to the American style and has very little to do with the Chilli Con Carne served in Germany. The chilli is not prepared with minced meat but with chopped Tri Tip. She also uses dark chocolate and a hint of curry. A very sophisticated aroma is guaranteed - and of course requires a suitable wine.
With the 2013 Cabernet Sauvignon from Smith & Hook, I once again opted for a wine from my own wine business. At first I was sure that it would go perfectly with it. However, I was also curious to see how it developed over the years. The last time I tasted the wine was in early 2017.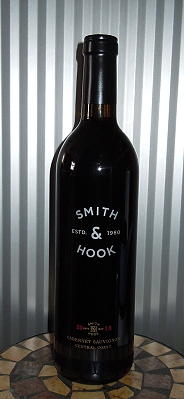 Clear, medium ruby red. Slightly restrained, but very pleasant aromas of blackberries and black cherry. A touch of leather, ground herbs and wet forest floor. Somewhat closed at the moment.
In contrast, very present on the palate. Exceptionally fresh and fruity with a calm, flowing and surprisingly long finish. Rather quiet, but probably a great food companion.
Indeed, the wine with the chilli shows its full strength. The still present acid combines wonderfully with the hotness of the chilli and ensures a highly complex aroma ensemble. It seems that this shy beauty has been waiting for this moment. The volume in the mouth becomes fuller, the wine stronger. An outstanding wine-food pairing.
Three years earlier, I certified a lifetime until 2024. Today I give the wine another three years. I think it will open up a little more in about two years or so and will present a slightly different flavor. It will still be a perfect companion for slightly spicy food. My rating takes this factor into account.