It is Good Friday and a little bit of wine is left from our
high-end-dinner
last week:
- 2018 Oak Farm Vineyards Sauvignon Blanc
- 2017 Klinker Brick Winery Albariño
So it fits quite well that Teresa wants to prepare a nice Mexican dish with a green Mole Verde: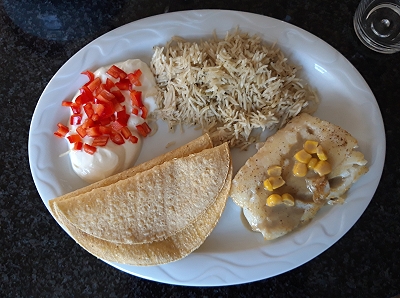 Codfish with Mole Verde and Sweet Corn
Basmati Rice with Lime and Coriander, Corn Tortillas and Sour Cream with Bell Pepper
My assumption was that the Sauvignon Blanc would fit perfectly and the Albariño could have slight problems. Fortunately, I had no idea

.
As expected, the Sauvignon Blanc from Oak Farm harmonized wonderfully with the subtle pungency of the Mole Verde. Together with the fish, beautiful, pointed fresh aromas developed on the palate. The wine supported the pungency and elegantly guided it into a perfect full chord. The entire ensemble was also retained by the add-on sour cream. Awesome.
Then Klinker Brick Albariño. Stupefying. The minerality that could be tasted the previous week was still there, but together with the mole it turned into a silky, slightly hot taste experience that is second to none. Spicy explosions alternated with velvety softness depending on the composition of the different ingredients. One of the best Food-Wine pairing experiences of my life. Simply terrific.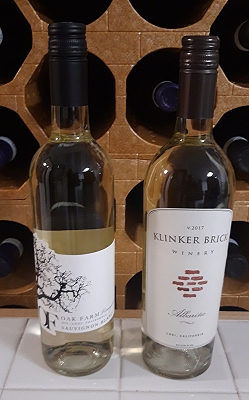 The Mole Verde Challenge:
2018 Oak Farm Vineyards Sauvignon Blanc
2017 Klinker Brick Winery Albariño

Obvious task for Teresa: More Mole Verde dishes!
Happy Easter!