Mendoza, Argentina
30 % Malbec Vistaflores, 30 % Malbec Altamira, 40 % Malbec Chacras de Coria
14.5 % Alcohol
Tasted 2016-07-30 & 2016-07-31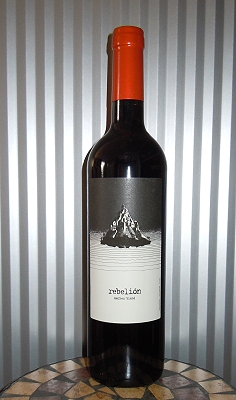 Medium and clear ruby red. Intensive blackberry notes paired with chocolate aromas. At the beginning very earthy but after some hours pure black fruits. On the palate the fruit character is clearly dominating. Besides the blackberries also some cherry impression arises. Together with a nice and charming acidity this Malbec provides a fresh attitude. Summer feeling. The perfect wine - perhaps a little bit cooler served as usual - for a "BBQ on the Lawn" experience. The people from Rancho Nicasio in California know exactly what I am talking about.
rebelión, Rebellion. The name was given by the Maal people because it was the first time that they prepared a Malbec blend from grapes coming from different vineards. So an act of rebellion. A successful act for my opinion.
The wines from Maal are the latest newcomers on the list of one of my German wine merchants, Lucky Wines. The owner of Lucky Wines made a very good avertising for the wines and so I became curious. I ordered a bottle of all six wines from Maal; starting with the entry level blend "rebelión" up to the high-end "paciencia". During the next weeks I will taste and describe all six of them to give a short overview of this winery with the wonderful credo: "We don't just make Malbec. We
only
make Malbec."
Drink this beauty during the next five years. And all the time during summer time and with burgers from the grill. Then life is - really - good.