Horrheimer Klosterberg, Württemberg, Germany
Cabernet Mitos
13.0 % Alcohol
Tasted 2016-07-17 & 2016-07-19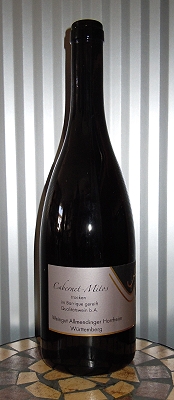 Medium dark cherry red. Some light rims are demonstrating first signs of maturity. Sour cherries, black pepper, freshly smoked bacon and a touch of dark chocolate. On the palate still fresh with some mint aromas. Then some slight but pleasant bitterness which flows into a long, lemony finish. Still young but very well drinkable at the moment. Waiting another five years no problem. The wine was 36 months in barriques. So this excellent backbone does not come really surprising.
But what on earth is Cabernet Mitos? No problem. Wikipedia knows everything:
Cabernet Mitos is a dark-skinned variety of grape used for red wine. It was created at a grape breeding institute in Weinsberg in the Württemberg wine region, Germany in 1970 by crossing Blaufränkisch and Teinturier du Cher. The previous belief that it was a cross between Blaufränkisch and Cabernet Sauvignon, which even the breeders themselves stated, was corrected in 2013 through a DNA analysis. "Mitos" is the German word for mitosis, a stage in the cell cycle. Cabernet Mitos received varietal protection and was released for general cultivation on January 24, 2001. The vines of Cabernet Mitos show good winter hardiness. ... Cabernet Mitos wines are full bodied and rich in tannin, and are well suited for oak barrel aging. The wines show similarities in aromas to Cabernet Sauvignon.
Two days later. Of course I used the wine saver

. Now the bitter notes are totally gone. Very smooth and more similarities to a classical Cab. Indeed it would be interesting to smuggle the wine into a Heitz Cab tasting - after three hours decanting.
Concerning food we paired the Mitos the first day with a classical Chili Mac. Wonderful. The freshness of the wine harmonizes perfectly with the spicyness of this comfort food. Two days later we prepared a special kind of burger - with low carb buns ("Oopsies") made mainly of quark. Works also very well. According to my opinion you should pair this wine directly after opening with spicy Mexican food. Fantastic cross-over.