Châteauneuf du Pape, Southern Rhône, Rhône, France
Roussanne
14.0 % Alcohol
Tasted 2016-06-25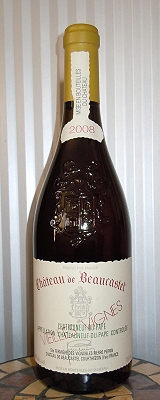 A real Wine Monument - the 2008 Château de Beaucastel Châteauneuf du Pape Roussanne Vieilles Vignes
Golden yellow. Lots of ripe tropical fruits, beeswax and kumquat. On the palate fresh and very intensive. Extremely strong with a tart, challenging acidity. Neverending finish. Far to the end more fruity.
The white Beaucastel "Vieilles Vignes" consists to 100 % of Roussane grapes. The vines are 70 years old on average. Half of the wine is fermented in steel tanks; the other in 225 l oak barrels. Total production 500 cases per year. Only to provide some facts about this outstanding wine.
Sometimes it is not necessary (and not possible) to write too much about a wine and the corresponding wine experience. This was the case here. No food pairing recommendation. This wine would dominate any kind of food due to its complexity. Also no statement to the aging capability - even if I believe that another ten years would not be a problem. It is quite simple: At this special day during this special moment it was definitely one of the best wines I drunk in my life.