Clos de la Roche, Morey-Saint-Denis, Côte d'Or, Burgundy, France
Pinot Noir
13.5 % Alcohol
Tasted 2016-05-05 & 2016-05-06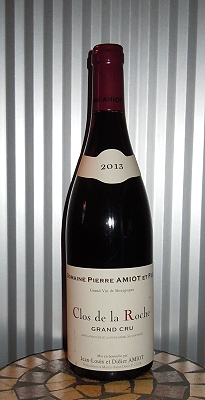 Medium, clear ruby red. Intensive aromas of ripe raspberries and redcurrants. Also something viscid and herbaceous is noticeable. Rosemary? Tight and powerful. Tremendously seductive. Still very young, but already grown-up. On the palate fruity with a nice astringent tartness which is floating slowly into a beautiful smooth carpet. Long, very long. Extremely stimulating.
The Clos de la Roche is located on a light increasing eastern slope 880 to 980 ft a.s.l. In the north it borders on Aux Combottes of Gevrey-Chambertin; southward to Clos Saint-Denis. The Appelation Clos de la Roche comprises besides the historical Clos de la Roche (4.56 ha) also Monts-Luisants-Bas, Les Mochamps, Les Froichots, Les Fremières and Les Chabiots. In total Clos de la Roche consists of 110 lots shared by approx. 40 owners. The Domaine Pierre Amiot is the third largest one (approx. 1.2 ha). It is a classical family business. Established five generations ago in Morey-Saint-Denis, Piere Amiot took over responsibility in 1951. In 1980 he shared the leadership with his eldest son Jean-Louis; the youngest son Didier started working at the domaine in 1991. The portfolio is typical for a Burgundy producer: 2 Bourgognes, 3 Villages, 5 Premiers Crus and 2 Grands Crus. From the Clos de la Roche Grand Cru 5,800 bottles were produced.
The next day. The wine is now even more charming. Rounder, more finesse. The herbaceousness is totally gone. So decanting for two hours would be a very good idea. Just at the beginning. The current youthness will remain for two years. Then I would wait minimum another three years before the next try. Total lifetime 15+ years. With respect to Wine-Food-Pairing I recommend at the moment for this beauty a nice plate with regional sausages and cheese. This is - for me - the best way to counterbalance the herbaceous notes. Especially some rustic sausages make the wine even smoother. For a sunny afternoon it is difficult to find anything better.