Maremma, Tuscany, Italy
Cabernet Sauvignon, Merlot, Petit Verdot
14.5 % Alcohol
Tasted 2016-03-27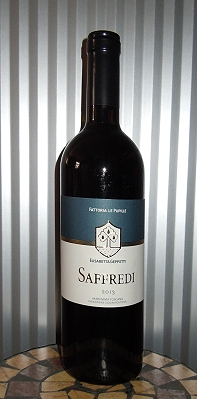 Bright medium purple red. Aromas of dark cherries, lots of blackberries, leather, cold tobacco and a whole bunch of spices. Full bodied but with a nice soft tone. On the palate fruity and fresh. At the far end the spice notes produce a very pleasant "pins and needle" sensation all over the mouth. Great!
It was the first time that I tasted the Super Tuscan established by Elisabetta Geppetti - and it was a great experience. The wine is - of course - prepared in a very modern style. Already very well drinkable but with a potential of 10 to 15 years. The 2012 vintage was voted by James Suckling by 100 points; this 2013 Saffredi with 96 points. But if you check the "non-professional" critics the consent is clear - the 2013 is the better wine. The German company Unger Weine reflects "Buy before the corresponding ratings will come." Indeed. I will do that.
The 2013 Saffredi is an outstanding, modern Bordeaux-style blend which shows in a dramatic way that you don't have to wait ten or twenty years befor a wine provides great pleasure. For me perhaps the Maremma variant of a Pontet-Canet. Also very hedonistic, but perhaps a little bit more elegant. Pair it with a classical Maremma venison dish. Vacation feeling for sure.