Sonoma County, California, USA
13.5% Alcohol
Tasted 2016-02-06 & 2016-02-07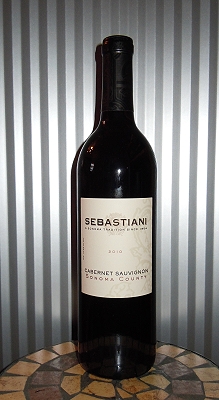 My bargain of the year: 2010 Sebastiani Cabernet Sauvignon "Sonoma County"
Medium, bright ruby red. Rich aromas of licorice, dark chocolate and dark forest fruits with a clear tendency to Black Forest cake. Very rich on the palate with well-integrated tannins. Fruity, long, pleasant. Great stuff for a nice evening after a long working-day.
The next day: The aromas of licorice and chocolate are totally gone. Now the fruits are at the forefront with a nice claiming sharpness. Still very intensive with an unbelieveable richness for a California cab of this price (and alcohol) category. Robert Parker is totally right with his 2013 statement: "This is almost too good to believe for a wine at this price point." He rarely was more right.
Usually you should be careful with such kind of statements, but very rarely I drunk a Cab of this quality for such an amazing price. An incredible bargain and I will definitely buy more.
I opened the bottle on a Saturday evening in anticipation of the Sunday lunch prepared by my beloved wife. Based on a recipe by Rachael Ray she served a classical hot US Chilli Mac. And this typical comfort dish was a wonderful partner for this beauty. Together with the hot Chilli the sharpness of the Sebastiani Cab was converted to a velvety creaminess. Drink this great Cab now or wait for another three years. But not any longer.