Manduria, Apulia, Italy
Primitivo, Syrah, Malvasia Nera
14% Alcohol
Tasted 2015-11-08 & 2015-11-17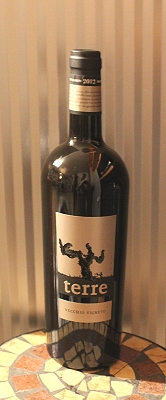 Clear medium dark cherry red. Extremely fruity notes of morello cherries with some "Christmas" spices. A touch of sweet pickled fruits. In addition some dark chocolate and cold tobacco. A little bit astringent but this is definitely due to its youth and totally gone after three hours. Very pleasant. So let's see for the taste. On the palate the massive fruit aromas of the wine are exploding and it becomes immediately clear that in the glass in front of me there is an Italian variant of a classical Zin-dominated blend from California - but with less alcohol. This is definitely no traditional Primitivo. The style is New World-oriented - which is not bad, but at the first glance a little bit surprising.
Frequent readers of my blog perhaps remember that I described about one year ago the 2009 Primitivo Di Manduria from Terre di Campo Sasso. As I mentioned this is a joint project of some oenologists with vintners from Apulia and Sicily. If you check the website of the project you can find some interesting facts. More than 200 family-oriented wine growers are part of this project and operate their vineyards strictly according to the notions and directions of the responsable oenologist. The sensational thing here is the fact that exactly in this more traditional area this approach works! And indeed the website also mentions the problems at the beginning, e. g., the resistance to new methods, etc. But if in the end a wine like the Terre Vecchio Vigneto is created only one statement is possible - mission accomplished.
Like the Primitivo Di Manduria the Terre is also available at Johann's Gschmacksach" (http://johanns-gschmacksach.de/) and the price of 16.90 € (17.90 $) is absolutely fair for this beauty. Especially in Christmas time a hot buy and a wonderful present for wine lovers - also the advanced ones. Integrate the wine into your Christmas Day dinner for instance as the accompanying partner for a wonderful roast saddle of venison with cranberry sauce and the Holidays will be really peaceful. No haste - the wine can wait for another three to five years.