Napa Valley, California
Sangiovese, Cabernet Sauvignon
Tasted 2018-02-03 & 2018-02-04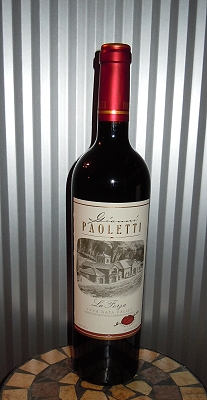 Medium ruby red, some light rims. Very earthy. Aromas of cold tobacco and cold black tea complemented with dark cherries. On the palate intensive, a little bit astringent paired with the freshness of young red currants. Some peppery notes recognizable. The wine remains in your mouth for a long time - and after a certain while lips and tongue begin to vibrate. Fascinating.
This is the second wine I bought at California Wines when the 1998 special sale started. And it was a very good decision. The owner of California Wines writes in his catalogue "terrific wine". Absolutely true. And I believe this is a perfect example of the hidden quality of this totally underestimated vintage in Northern California. The wine is elegant with a strong backbone. Not really a bargain but worth every penny. A wonderful present or for a very special dinner.
My beloved wife prepared for this wine an outstanding lasagna - due to its richness for me still the benchmark for a Sangiovese driven wine.
La Forza is on the top - and will retain its remarkable quality for another three years minimum.