Mendoza, Argentina
100 % Malbec (Vistaflores West)
14.5 % Alcohol
Tasted 2016-08-20 & 2016-08-23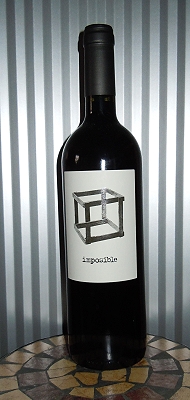 Deep, dark cherry red. Animalistic mix of bacon, blackberries and cherries. In addition some cocoa beans. On the palate warm and fruity. Nice stimulating acidity. Long, very long.
This wine is now the story about the impossibility to produce great and outstanding wines without using traditional oak barrels. Is this really impossible? Maal Wines masterminds Alfredo Merlo and Matias Fraga solved this problem in their very own style: Using French oak staves inside their cement vats! The Escher style label shall exactly symbolize this impossibility as an illusion. OK. Nice idea and story. But does it work?
Definitely. Especially on the third day after opening! Yeah, of course I used the preservation system. Stupid question:-). When you drink the wine now everything is harmonic and very well balanced. You have really the illusion to drink a wine with lots of very well integrated tannins coming from the barrels.
Even if no barrels were used. I believe this impossible wine has a huge potential. Minimum five to six years. Pair it with a BBQ lamb shoulder. Yes, with rosemary.