McLaren Vale, South Australia, Australia
65 % Grenache, 35 % Shiraz
15.5 %
Tasted 2016-07-21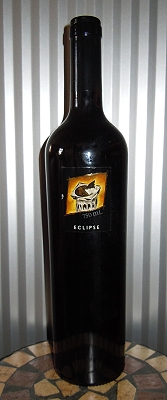 Medium ruby red. Directly after opening black truffles, wet forest floor and a touch of cherries. In total very, very earthy. I write directly after opening because in the next 60 minutes the wine changed dramatically. After thirty minutes the earthy notes were reduced and an austere and masculine but fruity viciousness is dominating. At this moment the Eclipse is on the peak. Unfortunately this does not last long. Another 30 minutes later the wine breaks apart. It smells only gangrenous and for certain moments it seems that only pure alcohol is in the glass. Bummer! And strange. I cannot believe that this transformation really takes place. So another try. And then it becomes crystal clear: The air is the problem. Coming directly from the bottle for around 5 minutes the wine is stable - and really good. After that: Going down in warp speed. So decanting is definitely no good idea:-).
Now the taste. In the five (not fifteen) minutes of fame the Eclipse has a real charming fruitiness and silkiness. In these moments the wine demonstrates perfectly why Drew Noon is a wine making icon in South Australia. But to be honest this is too less for a wine with that approach and in that price range. After a certain while when the alcohol tone becomes more and more pleasant this is reflected also on the palate. And the the medium-long finish becomes awkward.
It has to be said that this is my opinion. Nothing else. So please check out for yourself. If you want to integrate as part of your festive menu, then pair it with the main course, e.g. the Sunday roast. I am quite sure most guests will not recognize the topics I don't like with this wine.
Summarization: Drink now or sell.